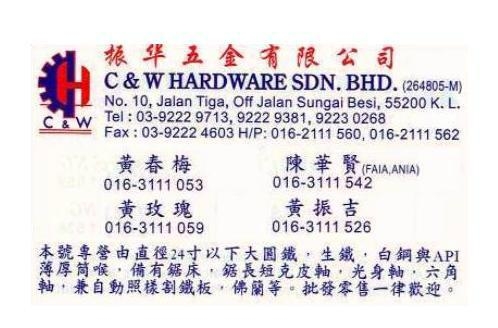 Dear Customers,

A Very Good Day to you....


Welcome to our website. We are a LOCAL iron & steel retailer,
distributor and supplier in Malaysia. For the time being,
we do not export. For international enquirers, please take
note that we do not export our goods out of Malaysia.

For local Malaysian customers, you are most welcomed to
phone to us directly during office hours. We are open daily
from 9am to 6pm except Sunday and Public Holidays.

If you are interested for a fast reply, kindly fax us an inquiry
stating the description of materials, grades, sizes and the
quantity you want to buy. All inquiries are welcomed. We do
not have any MOQ (Minimum Order Quantity) set for anybody.
Please feel free to call us. Our Sales Divison is always ever
ready to serve even if you are calling during the lunch hour.
Thank you very much for your patronage.
BEST WISHES AND WARMEST REGARDS,

C&W HARDWARE SDN BHD
Person to contact : Miss May Ng or Angie Ng.
Tel : (603-92229381), (603-92229713), (603-92230268), (6016-2111560) and (6016-2111562).
Fax: (603-92224603).
[email protected]
www.cwhsb10.com
www.cwhsb.net
www.facebook.com/pages/CW-Hardware-Sdn-Bhd